Description
This is an off diet celebration – an on diet alternative is to use coconut cream, vanilla, maple syrup and coconut oil for the cheesecake mix.
Prep Time: 1 hour
Setting Time: 1 Hour
You will require 8″ cake tin with a push out base and a food processor, blender or nutribullet for this recipe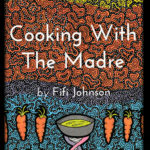 From the book "Cooking With The Madre"  by Fiona Johnson
Ingredients:
100g of dates
Tablespoon of date syrup
2 vanilla pods
250g fresh cherries (bottled or frozen if out of season)
3 tablespoons of coconut oil
Cheese Cake
250ml carton of coconut cream
2 just ripe avocados
200g of cashew nuts
1 tablespoon of agar agar
120ml of water
Optional:grated good quality dark chocolate
Topping
250g cherries
Biscuit Base
140g hazelnuts
100g pecans
3 tablesoons of coconut oil
Directions
Soak the cashew nuts in filtered water overnight (or for a minim of 1 hour)
Grind the hazelnuts and pecans to a rough, gritty texture. Melt the coconut oil and stir in to the ground nuts, ensuring an even distribution.
Grease the cake tin with coconut oil and press the nit mix into the base of the tin about an even half-inch layer.
Put in the fridge to set.
Topping
Wash and de-stone the cherries, setting aside a few for decoration. If you do not have a cherry stoner, slit along one side of the cherry with a sharp knife and carefully remove the stone.
In the food processor, grind the soaked cashew until they reach a smooth texture.
Strip vanilla from pods by cutting along the length with a sharp knife and scraping out the sticky vanilla.
Add the coconut cream, avocados, dates, date syrup and the vanilla, whizzing together until you reach a thick creamy consistency. Check the taste for sweetness and add a little more syrup if necessary.
Fold half of the cherries into the cheesecake mixture and pour over the biscuit base, place i the fridge to set.
Put the remaining cherries into the blender of NutriBullet and blend to  a thick purée
Measure the purée mixture. You need 240ml of liquid, so if necessary add water to top up the required amount. Transfer the liquid to a small saucepan, sprinkle the agar-agar into the mixture and stir well, stirring continuously over a low heat for approximately 10 minutes (or until the agar-agar has dissolved)
Pour this on top of the cheesecake mix, decorating with the remaining cherries
put back in the fridge to set before serving.
Reviews