Description
These pancakes are bananas. No, I mean they are literally made from bananas. And eggs. Eggs and bananas, and that's it. I can see that look you're giving me right now, but you just have to trust. These two ingredients, whisked together and given a little skillet love, are truly something magical.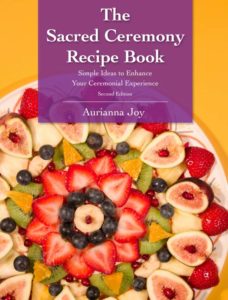 From The Sacred Ceremony Recipe Book by Aurianna Joy
Ingredients:
4 bananas
2 eggs
Small bit of coconut oil or other high-
temperature stable oil, such as grape seed oil
Cinnamon for topping
Directions
Mash ripe bananas well, add in whisked eggs.
Warm non-stick or cast iron pan to medium,
coating with a light layer of coconut oil. Cook 2
inch pancakes 30 seconds on each side and serve.
Top with ground cinnamon.
Reviews